HOW TO PLAN A BEACH DAY PICNIC
Sep 05, 2023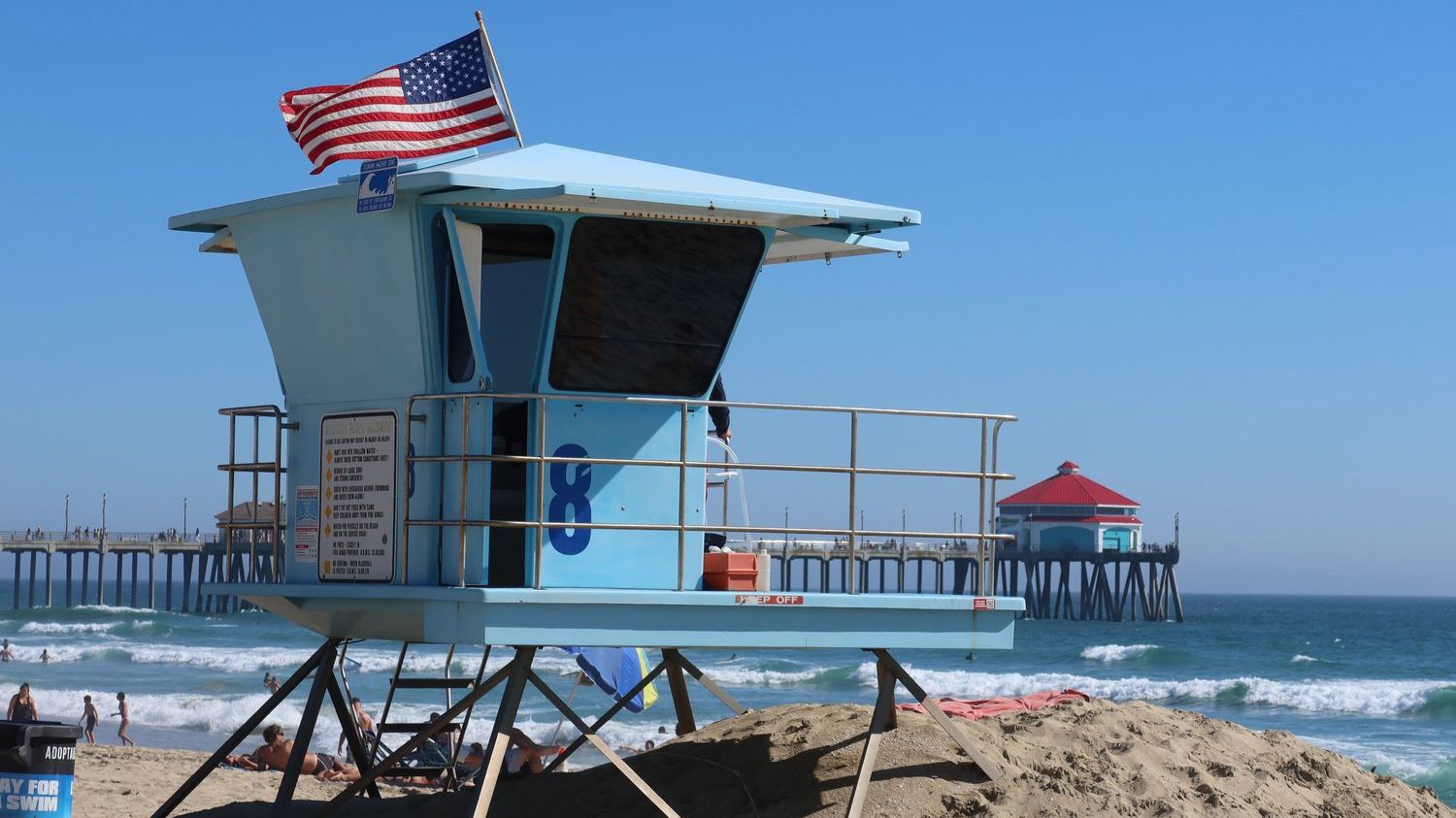 HOW TO PLAN A BEACH DAY PICNIC
Salty ocean air, warm sunshine, and soft sand create an idyllic setting for a serene beach day picnic, where you can turn an ordinary day by the sea into a memorable alfresco experience.
HOW TO PLAN A BEACH DAY PICNIC
As summer is coming to an end for most, we know as Huntington Beach locals this is when the beach gets less hectic and becomes the perfect time to soak of the California sunshine. As kids growing up at the beach, we loved pulling the wagon down to the beach and setting up for a beautiful beach picnic. From a picturesque setup to mouthwatering food, we're sharing a collection of picnic ideas that are perfect for the beach.
BEACH PICNIC IDEAS
Whether it's a romantic picnic at sunset or a day by the water with friends, you can set the mood to create a truly magical experience that those in attendance won't soon forget. This summer we felt extra nostalgic with the kiddos doing the same for them as our parents, aunts and uncles did for us growing up in Huntington Beach, California.
As you explore the ideas below, remember that whenever sun, wind, sand, and food come together, a little preparation can make all the difference in creating the perfectly aesthetic picnic you imagined.
Now, here are some picnic setups and food ideas that are tailored for the beach.
BEACH PICNIC SETUP IDEAS
BOHO
To create a beach picnic setup that will impress everyone in attendance, consider a boho aesthetic. Earthy tones, natural fabrics, and whimsy elements blend seamlessly with the beach setting.
A boho beach picnic setup should include a blanket to lay everything out on, floor cushions or pillows to sit on, as well as signature bohemian pieces like vases with pampa grass, a macrame-style table runner, and woven placemats. You can also add a boho beach umbrella for shade and incorporate a wood table for an elevated, luxury boho beach picnic.
FRESH FLORALS
Add a burst of color to the beach with a fresh floral picnic theme. This elegant setup features fresh-picked flowers from your garden or a local florist. Use the bouquets as centerpieces, then complement them with colorful touches throughout the rest of your setup.
For this beach picnic setup, start with a colorful beach umbrella, then add pillows, blankets, and decor.
ELEGANT MINIMALIST
An elegant minimalist beach picnic setup is great for anyone who likes to keep things simple. Minimalist decor is trendy and perfect for a picnic in the sand.
For an elegant minimalist beach picnic setup, use neutral colors (think white, tan, gray, and beige) for your blanket and seating. Keep the decor to a minimum for an especially budget-friendly picnic setting. A simple table runner and a few candles should do the trick.
ROMANTIC
Take advantage of an already romantic setting by enjoying a beach picnic with your loved one. Create a cozy and intimate space in the sand for a memorable date night.
Lay down a blanket then add a throw blanket and pillows to cuddle up with together as the sun sets over the horizon. Scatter red rose petals and flameless candles to set the mood. You can also hang fairy lights for a sweet touch.
A complete picnic basket set and portable mini picnic table are great for a picnic for two.
TROPICAL/LUAU
For a fun and colorful beach picnic setup, consider a tropical or luau theme. Bring all the island excitement to your local beach with palm tree leaves, woven straw cushions, and tiki torches. Then, add other vibrant tropical elements for pops of color throughout your setup.
Opt for pillows with tropical flowers, bright floral centerpieces, and fun drinkware to match the tropical paradise vibes. For the final touch, add a thatched umbrella.
MOVIE NIGHT
Gather friends and family for a picnic and a movie on the beach. All you need is a portable projector and a screen. You can invest in an inflatable projector screen or keep it budget-friendly by hanging a white sheet.
Grab drinks and movie theater snacks and get comfortable with blankets and pillows or sit back in a sling chair. Your movie night beach picnic setup can be as simple or extravagant as you desire.
RUSTIC
A rustic setup is great for outdoorsy types. It's all about celebrating being out in nature. For the ultimate rustic beach picnic setup, incorporate earthy tones and natural materials.
For this setup, lay out a large beach blanket and add a wooden table with a burlap table runner. Then use string lights or lanterns to create a warm, cozy glow. Create a space to relax with throw blankets and floor cushions.
Finish with nature-inspired decor like pinecones and wildflowers.
PRETTY PINK
A pretty pink theme is perfect for a girl's picnic or bachelorette celebration. For this beach picnic setup, incorporate feminine elements in different shades of pink.
Start with a pink beach blanket and add some pink and white pillows and cushions. Decorate the space with stylish placemats, floral centerpieces, and other girly pieces.
NAUTICAL
What could be more appropriate for a beach picnic setup than a nautical theme? For a photogenic nautical beach picnic, use lightweight, breezy fabrics and add a few nautical elements like navy and white stripes, ropes, and anchors.
Some of my favorite nautical-themed picnic items include this metal anchor napkin holder, this table runner, and these nautical jars. These lighthouse lanterns are fun, too! And how aesthetic is this mariner cheese board and tool set?
BLACK AND GOLD
Black and gold elements, in any setting, give off luxurious and elegant vibes. Use them in your picnic setup for an elevated beach experience.
With this setup, the tablescape is the star of the show. Start with a white tablecloth. It's much more beach-friendly since it won't show sand as easily as a black one would. Then, add black and gold pieces to match the theme. Consider a black table runner topped with white and gold centerpieces. Add black placemats and gold linens.
You can further elevate your setup with a white beach blanket, black and gold floor cushions, and black torches.
SUNSET
The beach at sunset is naturally romantic, so why not match the ambiance with your picnic setup? Create a tablescape using elements in rich oranges, yellows, and reds. Keep the rest of your setup relatively simple. After all, the gorgeous sunset is what really puts this experience over the top.
A few things you might want to include in your sunset beach picnic setup include a deep orange table runner, calla lily bouquets, and plenty of candles.
MEDITERRANEAN
A Mediterranean picnic setup is excellent for creating a warm and inviting beach setting. For a quintessential Mediterranean beach picnic, incorporate rich colors and cozy elements.
This colorful, lush floral runner would look beautiful at the center of your beach picnic tablescape. Grab a blanket and some pillows and pop open a bottle of wine for a memorable picnic on the beach.
BEACH PICNIC FOOD IDEAS
FRESH FRUIT
Not only is fresh fruit delicious and refreshing, but it's also easy to eat just about anywhere, including the beach. Rather than scrambling for beach picnic recipes, why not just grab a variety of fresh fruit?
Try sliced watermelon, grapes, apples, strawberries, and blueberries for an array of easy and colorful options. We took the picnic basket idea and translated it into this cute melon fruit basket which the kids loved!
VEGGIES AND DIP
Put together a colorful tray of fresh-cut carrots, celery, broccoli, and peppers. Pack one or two dips for delicious and easy picnic fare.
CHARCUTERIE BOARD
It's surprisingly easy to put together an impressive charcuterie board for your beach day picnic. Meats like turkey, salami, and ham are easy to pack. Cheeses like gouda, cheddar, and brie are great too.
Add a few different crackers, some pickles, and olives, and arrange it all on a wood cutting board, and suddenly you have picnic fare that's delicious cold or at room temperature.
CHEESE AND CRACKERS
A minimalist take on the idea above, pack a few types of cheese and a couple of different crackers. It's a fuss-free beach picnic food idea that anyone can pull off.
FRIED CHICKEN
Fried chicken might not have been at the top of your culinary brainstorm for a beach picnic. And yet, surprisingly, fried chicken is among the most popular picnic finger foods. Also, it's secretly one of MY all-time favorites as well.
Create a fried finger food tray with an array of delicious dipping sauces to elevate the meal and leave all picnic full and satisfied. Who would've thought fried chicken would be such a picnic staple?
PIZZA
Pizza is an easy and versatile crowd-pleaser. Several perfectly baked pies with vibrant and fresh ingredients can bring the warmth of southern Italy right to your picnic blanket. I recommend a margarita-style pizza because it's light and crispy and perfect for a picnic in the sand.
SANDWICHES AND WRAPS
It's no wonder that sandwiches and wraps are such popular picnic fare, they're the champions of outdoor dining. These easy-to-pack foods are portable, and versatile, and can cater to your wildest sandwich fantasies. And the best part, they can be as simple or extravagant as you want.
From a classic elevated PB&J to fresh chicken salad on a flaky croissant, you can't go wrong here!
SALADS
Salads, while undeniably delicious, don't have the best track record. As tasty as a crisp salad can be, fresh greens tend to wilt in the scorching heat. Pasta salads, on the other hand, are great for a picnic under the sun.
For an easy homemade pasta salad, toss grape tomatoes, mozzarella pearls, and olive oil with perfectly cooked al dente pasta. Keep it in the fridge until go time, then keep it cool with ice packs while you soak up the rays on a sandy beach.
SNACKS
Listen, when it comes to snacks, you can never truly pack too many munchies for a trip to the beach. Pack those chips, nuts, and granola bars because they're easy to pack and super beach-friendly. You can also put together a homemade snack mix to impress your beach buddies!
DESSERT
And definitely don't forget about dessert! There are plenty of sweet treats you can pack for your beach day picnic.
Ice cream would be refreshing, no doubt about it. But you're better off going with desserts you can eat without creating a melty mess. Not to mention, it's hard to keep ice cream frozen at the beach in the summer.
Cookies and brownies (with a bunch of chocolate chips) are great options.
WITH PROPER PLANNING, YOUR BEACH DAY PICNIC WILL BE AN UNFORGETTABLE EVENT.
The beach is an idyllic setting for an intimate picnic shared with those close to you. With these ideas, you can put together a special affair that your guests won't soon forget.
Here's to creating extraordinary oceanside experiences and making the most of summer.