HOW TO HOST A DINNER PARTY
Nov 01, 2023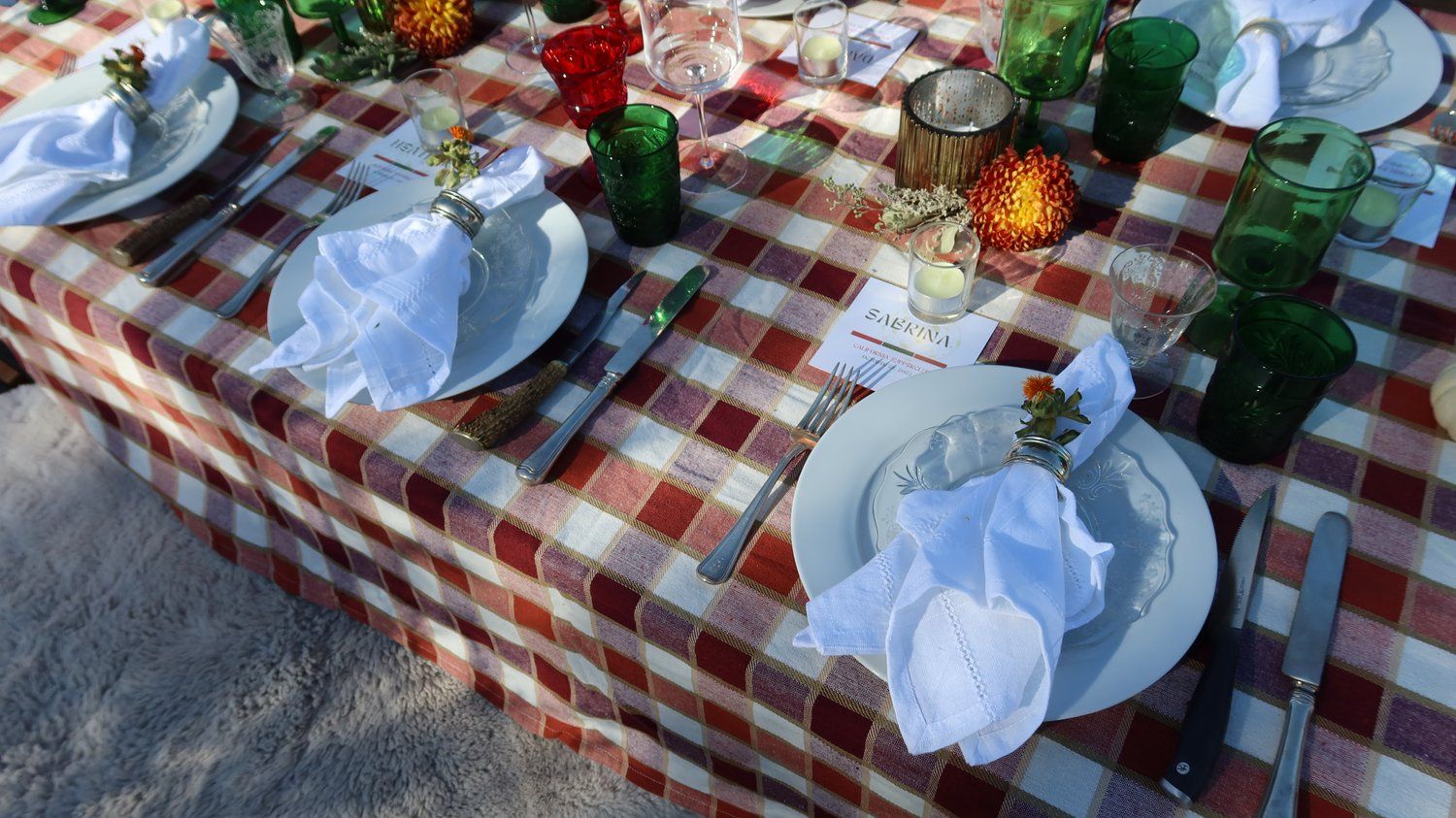 HOW TO HOST A DINNER PARTY
Have you ever hosted a dinner party? If so, you know that putting a lot of thought into your gatherings can make your guests feel welcome and special. It's a wonderful way to create lasting memories and bring people together. However, it can also be a daunting task that leaves you stressed and overwhelmed. The good news is that today, I'm here to share practical tips on how to host an awesome dinner party minus the stress so you can relax and enjoy as your guest arrives. My friend Nami and I recently joined forces to create our own traveling dinner party - California Supper Club. We hosted our first dinner party recently and have included all the details!! Hope you enjoy.
HOW TO HOST A DINNER PARTY
PLAN AHEAD

What I've learned is that the key to a successful dinner party lies in careful planning. Start by choosing a date and guest list. Consider your space and how many people it can comfortably accommodate. Once you have a clear idea, send out invitations well in advance, so your guests can save the date. Planning ahead gives you time to prepare, ensuring a seamless event.

For our first California Supper Club, we decided to host a dinner at my desert home and set the table for twelve on the new deck which would allow for open air to relax and enjoy as well as coincide with cooking outdoors on our grill and Ooni pizza oven which we planned ahead and ordered the pizza dough from our local sourdough masters at Luna Bakery in Yucca Valley, CA.
2. CHOOSE A THEME
A well-thought-out theme can add an extra layer of fun and excitement to your dinner party. It could be anything from a rustic Italian feast to an elegant black-tie affair. Choose a theme that resonates with you and your guests, and then plan your decorations, menu, and even dress code accordingly.
For our first California Supper Club, we chose an Italian theme under the open air skies where you could relax and enjoy a bottle of wine during the full moon which we planned to watch just before sitting down for dinner. The Italian theme stemmed from wanting to use the Ooni pizza oven and share the space of the newly transformed Italian themed vintage trailer on my property: Bella Rosa. (soon to be available for bookings)
3. CURATE THE MENU
The heart of any dinner party is the food. Curate a menu that suits your theme and your guests' preferences. Don't feel pressured to cook everything from scratch; you can incorporate store-bought items to make your life easier. A mix of homemade and store-bought dishes can help you strike a balance between delicious and convenient. A pre-made charcuterie board is always a big hit! Consider dietary restrictions and allergies when planning the menu.
For our first California Supper Club, we decided to course out our menu to make it easy on cooking and service the night of. We went with a self-serve spritz bar, simple nibbles such as chips, olives and nuts instead of a full charcuterie board while we fired up pizzas in the ooni oven which was interactive. We coursed out the sit down dinner with a pre-prepared arugula salad, fresh pumpkin ravioli from Eataly then grilled Porterhouse bone-in steaks from Butcher Box that we sliced up family style and pre-marinated zucchini slices along side some bottles of red wine. For dessert we went with a serve your own affogato bar using a Nespresso machine for easy service.
4. DECORATE THE SPACE
Your space sets the mood for your dinner party, and the right decor can transform it into a magical setting. Whether it's flowers, candles, or themed decorations, pay attention to the details. Set the table with elegant tableware and wine glasses to create an inviting atmosphere. A beautifully decorated space can make your guests feel like they're in for a special evening.
For our first California Supper Club we went all out and set the table using checkered patterns, red, green and white wine glasses and lots of candles to set the mood to dine under the full moon. Our goal was to ensure our guests could relax and enjoy the evening.
5. SET THE TABLE
Setting the table might seem like a small detail, but it can make a big difference in the overall experience. Use elegant tableware, napkins, and centerpieces that match your theme. Make sure the place settings are well-spaced, and each guest has everything they need within arm's reach. It's these little touches that make your dinner party feel polished and well thought out.
6. CONSIDER THE PURPOSE
Explore the opportunity to use your dinner party as a platform to raise awareness for a charitable cause or organization, turning your gathering into a meaningful and impactful experience.
For our first California Supper Club we invited Reinette Senum from Save Our Skies to start a conversation about her charity. I have included a Q&A from her to share with you one of the purposes of the dinner party:
What are some of the key initiatives or projects your organization has undertaken to support and build the community you serve?
I started GenSeven, a pending 501(c)(3), to serve the "7th Generation Principal," every decision you make today should serve 7 generations from now. GenSeven is the umbrella organization for Save Our Skies.
The first thing I did was establish the non-profit GenSeven. Then, I got the best team of lawyers, experts in environmental, tort, evidentiary, and constitutional law, to help us identify who best to pursue in our first legal case.
We must win the first case out of the gate to establish ourselves for the more significant legal fight later.
We are definitely moving the needle on people's understanding of what is happening over our heads daily.
How can individuals who are interested in supporting your organization get involved?
SOS takes a multi-prong approach to public education and legal action against those who continuously adulterate our skies unabated. While we are pursuing a landmark legal case, we are not putting all of our eggs in one basket. We have several approaches available for concerned citizens to take on themselves.
The first is what is called a Notice of Liability. This is where a person can put their city council, county supervisor, or commissioners of air and water quality boards on notice that a crime is being committed. If they don't do anything, we notify them they will be held personally liable.

The other tactic is to strategically engage the small claims court by having a group of individuals file independently, day after day, against those who are spraying over their heads. This can be a local weather manipulation company that has undertaken programs in their respective area, or this could even be the fossil fuel industry that provides the jet fuel to commercial airlines that is extraordinarily high in the heavy metals we find in rain and snow samples.

We also seek social media ambassadors to consistently put educational information out to the public to build awareness.

Then, we have the on-the-ground crews who can distribute fliers at events such as farmers markets and drop banners from overpasses.
What are some ways for community members to contribute their time, skills, or resources?
We could use a good graphic designer willing to volunteer a few hours a week to design our social media frames, banners, templates, etc.

Any influencers who can help promote our effort. This goes a long way in fundraising and getting the word out.

Legal research is a significant - People ask when we will file our legal case, and I let them know it depends on how fast we raise the money. This legal fight will not be cheap, and we must be in a robust legal position out of the gate.
7. RELAX AND ENJOY
The most important tip of all is to remember to relax and enjoy the evening. Hosting a dinner party can be demanding, but it should also be a time for you to connect with your guests and savor the moments. Have a bottle of wine ready to share with your guests, and keep the conversation flowing. When the guests arrive, focus on their enjoyment rather than stressing over every detail.
In conclusion, hosting a dinner party is all about creating a warm and inviting atmosphere for your guests. By planning ahead, choosing a theme, curating the menu, decorating your space, and implementing these tips, you can host a dinner party that your guests will remember for years to come. So, take a deep breath, relax, and enjoy the company of your loved ones.
If you're looking for inspiration to host an al fresco dinner party, check out this post: Summer Al Fresco Dinner Party. An al fresco dinner party can be a delightful way to enjoy good food and company in the great outdoors.
WE WOULD LOVE TO SEE YOUR DINNER PARTY SETUPS!
Share with us on instagram using #curedesignstyle photos of your dinner party!
WITH LOVE,
JESSICA CURE